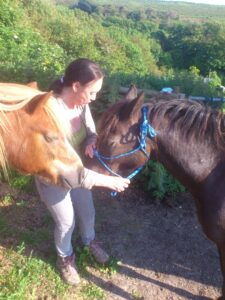 HORSES
Distressed/depressed ponies                                                                                                                                                                        "Karen initially visited my ponies because she wanted to start riding again after a gap of many years, but visited recently following the tragic death of my older mare, Bryony. This left the other two at first distressed and then just depressed. She spent time checking that they had now accepted her passing and seeing how they felt about the change. The two ponies were quiet and communicative, and it was, as always, a peaceful process and one which enabled me to ask some questions as I was also keen to know why they had all been jumpy over the previous month. Personally as a scientist  the detailed level of communication with animals can be hard to rationalise and I have to overcome personal scepticism for messages about the past, but I found a really good match from what I would interpret from the behaviour I can see, and the messages that Karen passes on from them which helps me accept the rest. Hearing another point of view from the ponies has helped me open my mind to how they might feel about their environment, work and my attitude to them ,which I am sure they appreciate. At the same time, I asked Karen to look at Chilli as something seemed to be troubling him. She scanned him and advised it was his right hind leg which matched my feelings whilst riding him. When I returned later that day after Karen's visit, the ponies were unusually, lying down by the gate, which is an area they have been avoiding. So I think we all gained some peace from her visit on that day."                   FB Dorset November 2016
Togetherness                                                                                                                                                                                                        "Karen has helped me focus on my relationship with my horse. We seemed to be working  at odds with each other but now following Karen's visit, I have more confidence in my ability to communicate what I would like, and in return I try to listen more to what he is saying!"  TG August 2016
Behavioural Change                                                                                                                                                                                                                                                                                                                                                                                                                              My horse appeared unhappy and didn't seem to want me to ride her anymore. Karen spoke to her and found out that she was very uncomfortable when ridden as the saddle was no longer a good fit. After the communication session, she seemed a lot brighter for being able to talk about this and other issues which were worrying her, and of course now has a new saddle!"       Surrey 2017
Infection
" Recently my New Forest Pony developed symptoms similar to Laminitis. My farrier was concerned it could be the early stages, despite Ollie not being overweight. Karen scanned him and found the stiffness in his legs was due to a urine infection. Healing for one week was given, and Ollie soon recovered and is once again racing around the field with his pal Reggie. " Dorset 2019
---
 

HUMANS
Anxiety and ill-health                                                                                                                                                                                          "My health has suffered severely during the past few months, brought on mostly by traumatic and stressful family upheaval. It is difficult to put into words my gratitude for Karen's help and support. Over the past few months I have received both hands-on and distant healing from Karen, for my anxiety and the intense physical pain in my shoulders and neck. I have experienced immense relief from the healing over this time, and am now well on the road to recovery. Thank you Karen" Christine,  2016
                                                                                                                                                                                                                                  Broken wrist
"My wrist was  broken in 3 places from a cycling accident, and after keyhole surgery, the surgeon advised that my wrist would not regain any level of mobility due to severe damage to the tendons (one had been completely severed and another was hanging by a thread). I decided to investigate alternative therapies and chose healing as it is a gentle, non-evasive therapy. After four healing sessions, I now have full mobility in bending my hand forwards and some flexibility in moving the hand backwards. The pain and tingling in the hand and wrist, which I had experienced since the accident, has almost disappeared, with just the ocassional twinge here and there.  I am delighted with the improvement and intend to continue with the healing sessions to hopefully regain full flexibility". An update: With regular healing since the surgery, I have been able to continue to use my hand as normal; no-one is aware that I was told by the surgeon that I would at some stage have serious problems with the wrist/hand, which thankfully, have not developed.
D Lambert Leigh, Surrey 2015
DOGS
Twisted Spine and DIstemper
When my gorgeous St Bernard, Tony, was off-colour, I immediately contacted Karen to scan him. She stated that he had a twisted back and a bad infection – Distemper. At the time I was convinced he wasn't going to make it as he was not able to walk because of his back legs. Karen gave him some emergency healing and suggested I contact my local vet. After their home visit – I couldn't get him in the car due to his back legs – he was prescribed metacam but no conclusion was reached. So Karen began giving regular healing, starting out daily and then slowly reducing, over the next 4 weeks. She also reassured me that it wasn't his time to go, and this proved to be true as he steadily improved. When I struggled to see him so uncomfortable, she was always there with support and encouragement. Now Tony is fully fit and back to playing with his little sister Darcy. He still needs a monthly 'top up' as Darcy can be a little too enthusiastic when playing. He has also started chasing the cats, so I asked Karen if she would have a word with him as he had never done so before. His response was an indignant 'well I don't catch them'! July 2019
Dougal and Tess
"Our lovely dog Dougal had been with us for over 10 years. He fell ill suddenly, just before New Year 2012. He spent time at the vets being treated and the prognosis was anything from a few months to a few weeks. At first Dougal responded well to treatment, but when we brought him home from the vets a second time, he did not want to eat or take his tablets. Returning home one evening, I realised his time with us was nearly up.
Luckily for us, Karen, a neighbour and good friend had been supporting us during this time. She came around straightaway to communicate with Dougal to find out what he wanted. Did he want us to continue trying the medication? Did he want help in passing over or did he just want to stay with us at home? Karen told us he wanted help and was ready to go the following day. She stayed to look after Tess our other dog, who knew something was wrong, while we went to the Emergency vet to find out whether Dougal's condition had indeed deteriorated as we thought. He confirmed the worst. We knew that although it would be difficult to let Dougal go, it was the right time for him, and indeed, it was just past midnight when we said our last goodbyes. We were comforted that we had done our best for him, and that he had come home for his final days. Having Karen communicate with Dougal also gave us reassurance that we had done the right thing.
Since then, Karen has helped our younger dog, Tess, adjust to Life without Dougal – She had started to bark more, so Karen asked her if she wanted another dog for company? Most definitely NOT! She was barking to tell us all to slow down and stop rushing in and out all of the time. We needed to find space to just "be". When Karen told us this we realised that this was exactly how life was at the time. Life is still fairly busy, but we now make sure that we try and take time to relax with each other and Tess more frequently. And Tess loves to snuggle up. I have known Karen for years but am convinced that we were "meant" to be friends for a variety of reasons, and helping Dougal and Tess was one of them."                                                                                                                                                                                            Roz, Surrey 2013
Confused dog                                                                                                                                                                                                            "We were amazed. Our dog was extremely nervous and scared whilst travelling in a car. Thank you Karen for communicating with her and discovering her fear was the windscreen wipers. Being a rescue dog it transpired she had had a very rough time and the wipers to her were sticks! She is much happier now and we are very appreciative of your talents." CL Dorset July 2014
George-a dog frightened in his own garden                                                                                                                                                    I first met Karen at a dog show where she had a stand and I wandered over thinking that she may be able to help one of my dogs. I had no idea that before the day was out, I would definately need her help with one of them. Karen first helped us when our eldest Irish Setter started showing signs of aggression which was completely out of character for him and he was later diagnosed by a vet with hypothyroidism and treated successfully.
This time it was one of our younger setters who had inexplicably stared to urinate indoors and would not go out into the back garden. It became obvious that something had seriously frightened him out there. I thought of Karen and she spoke to George, who is 2 years old, asking him the questions I had given her.
The answers were very helpful and gave us a true insight into what was bothering him. There were several issues,not just his reluctance to go into the back garden! What amazed me was that from the moment Karen spoke to him, his whole demeanor changed. All his tension was gone. And from being a very sad boy he started to play again and gradually over the course of a few days he started to go out into the back garden once more. He still won't go out there at night, so it is a work in progress; but Karen was so helpful and continued to reassure him and relay his worries to us and I would not hesitate to recommend her work to anyone." CP December 2014
Rolo- A dog with arthritis
"My dog Rolo, had suffered from severe arthritis in his left elbow for many years,which he was born with, which meant that as he grew older it became more painful and difficult for him to exercise. I decided to contact Karen, as I myself had benefited from healing in the past for I also suffer from arthritis, and healing had given me a sense of relaxation and well-being afterwards as well as reducing the pain and inflamation. Rolo greeted Karen when she arrived and seemed to soak up the healing and enjoy the experience. After the healing he went to sleep for a while and when I took him for a walk, he appeared happier and walked with more confidence.
After several sessions, Rolo was able to walk and even run more easily. He appeared to be in less pain and had more energy than he had shown for some considerable time".
SL, Newdigate, Surrey 2011
CATS
Infected Cyst
"One of my cats developed a lump on her tummy. She is quite anxious and taking her to the vets is stressful for us both. So I asked Karen to scan Bella and she found a cyst the size of a walnut. She drained this energetically and within 24 hours the liquid was released. After a few more healing sessions to keep it clean and with me bathing it with salt water as suggested by Karen, Bella was well on the way to recovery within the week, without the need for surgery. " July 2019
Moving House
" I cannot praise Karen highly enough for her help with my tomcat. We had to take him on a 6 hour drive moving house and were worried how he would be, so asked Karen to come and meet him. It was fascinating to see him with her. He stood and stared at her for at least 30 seconds as if he was listening intently to what she was saying. She gave us advice about talking to him and constantly reassuring him, even after the move. I'm thrilled to say the drive was incident free. He was so relaxed. Also, he adapted extremely quickly to his new surroundings and is as happy as we are. Thank you Karen so much for making what could have been a very stressful situation a very easy transition for all of us." LC August 2016
Cat Disorder!                                                                                                                                                                                                 "Karen was amazing with our many animals and took time with all our cats so that they could sort out who was 'in charge'. They were confused as to what was expected of them. They are now so contented knowing how each one fits in and that we care equally for all of them." CN, Dorset June 2014
Rosie                                                                                                                                                                                                                      "When Karen visits for a communication or healing session, there is a constant stream of animals 'dropping by' to get their share of healing or just a chat. They sense her presence in the house and appear to demand her attention. Rosie in particular, takes more than her  share and immediately sets up home on Karen's lap. She invariably pops back for a final chat before Karen can make her escape."  Dorset  August 2014