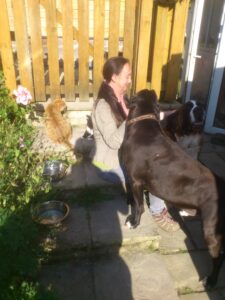 Spiritual healing is a natural, non-invasive, safe and supportive therapy that promotes improved health by assisting the body's own natural abilities to repair itself, and aims to bring harmony and balance at all levels – emotionally, physically, spiritually and psychologically. It can also be beneficial when there is a behavioural problem. It is a complementary therapy which can be used in conjunction with conventional medicine, other therapies or on its' own.
The healer acts as a channel for universal energy to flow through the healer to the animal/person which then re-energises and relaxes them to allow their natural resources to deal with the injury or illness at a profound level in a way which is right for them. Often more than one session is needed, but this can be discussed after the initial session.
By restoring balance and creating harmony, healing can be particularly helpful in situations where there is  a crisis or terminal illness. However, both animals and humans can enjoy a healing session for the peaceful experience and feeling of well-being it gives them, rather than for any particular ailment.
During the healing sessions you may experience tingling, or a sensation of warmth or coolness, or nothing obvious/tangible. Your pet could fall asleep or move differently. Whatever you or your pet experience can be discussed (if you so wish) following the healing (s).
As well as 'hands on' healing, I also offer telephone healing sessions and a distant healing service for animals and humans, for which a name and a brief description of the problem is required.