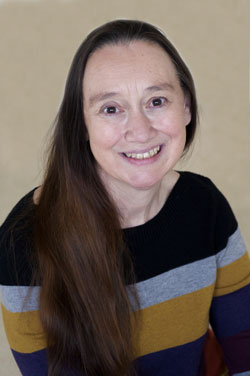 I have always had a love of animals and this planet we call home, and was lucky enough to grow up with dogs in my family of origin as well as being around horses and riding out at every available opportunity.
I am currently a guardian to my cat Ben, who appears in the first slider photograph, alongside a statue of St Francis of Assisi who watches over all of nature.
Looking back on my childhood I have a strong memory of when my healing ability became evident, although I was not aware of it at the time. I was approximately 16 years of age and our family dog, Solomon, a bull-terrier was 10 when he developed pneumonia; the vet treating Solly didn't expect him to survive and I chose to sit up with him for two nights just cuddling him and talking to him. Looking back on this event I can see that this obviously assisted in his recovery, as from then onwards he started to improve and lived for another four years.
Like many of us, I was communicating with animals and picking up on their thoughts as a child without realising it, apart from one incident I clearly remember, at around the age of 10 years, when I was walking past a pony in a nearby field and heard him asking me for a herb which was just out of his reach, which I then gave him. I didn't really give this much thought, I suppose I took it for granted that this was normal, but was of course, at that age, not able to acknowledge or process what was happening. My understanding of what was taking place only became evident to me as I knowingly progressed on my spiritual/healing path in later life and opened up my awareness to the fact we are all beings of energy and connected to everything and that an open heart knows no bounds when it comes to healing of the self and others.
I have had a varied career which has included organic farming, acting, teaching and counselling; and now work as a horse-whisperer and animal communicator/healer for all animals, and humans when needed too; and find that I am truly at home bringing light, hope and clarity into the lives of animals and their human carers.
I trained as a healer with the NFSH (Healing Trust) 18 years ago and developed my spiritual understanding and view of the world by attending workshops and courses ranging from soul development and shamanism to crystal and colour healing over the past 16 years.  I work intuitively, with the angelic kingdom, St Francis and my native american guide to assist my healing and communication work.
I am also a qualified teacher, BACP humanistic counsellor and trained as an Equine Assisted Psychotherapist too. I sometimes draw on these skills during healing sessions with both humans and animals.
I am fully insured.